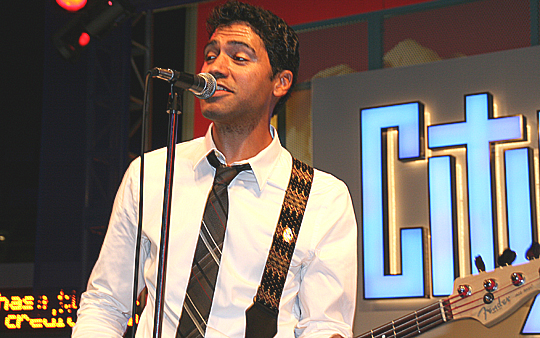 Norman Kelsey was born on Feb 6 in Cleveland, Ohio in the age of Aquarius. He began his musical career by singing and dancing in his living room to "Sgt. Pepper's Lonely Hearts Club Band" and Jackson 5 singles. His family finally migrated to the deep south to escape the annual May blizzard. After being asked to perform in a high school talent show at Terry Parker H.S. in Jacksonville, FL, Norman decided to pursue music over a career in foreign service (true story). One of his first gigs was at the legendary & now-defunct Einstein A Go-Go at Jax Beach. And in 2006, Norman was named one of his high school's most prominent alumni (true, again).

Norman managed to graduate from Georgetown University while afflicted with what his roommates called "Beatles on the brain." There, he performed in a musical improv troupe called Rebels Without Applause and honed his chops in coffee house settings singing songs by Roy Orbison, Prince and the Fab Four.

California called next, where Norman was a founder member of several popular L.A. based groups: Idle Kings, Bat Country and Rush Hour Soul (RHS). As lead singer of RHS, Norman toured the UK in 2006 with barnstorming stops in York, Barnsley, London, Sheffield, Huddersfield and one magical night in Liverpool playing at the Cavern Club.

In 2007, Norman went solo and recorded his self-released debut CD, "A TALENT FOR LOVING." Produced by his mentor Adam Marsland, it dropped the first week of 2008 to encouraging reviews. Norman's goal with the album was to create a record with varied flavors, reminiscent of a Summer day back when radio would spin a pop song, a funk song, a rock song, a disco song, an R&B ballad and an anthem back-to-back-to-back without flinching. The track "A Talent For Loving" was recorded at Monnow Valley Studio in Monmouth, Wales. The video for the title track available on YouTube was directed by William Archer on location in London.

Several songs from "A TALENT FOR LOVING" made an impact on internet and terrestrial radio, specifically the smash hit ballad "Everything My Heart Desires." (Please see the reviews for more) The title track and the new single "Everything My Heart Desires" were featured on RadioIO's Nu-Soul, WICN 91.5 FM's Soul Serenade, & BBC Radio's The Craig Charles Funk & Soul Show.

The Norman Invasion '08 Tour took Norman to England once again. Select markets were treated to his unique brand of sunshine funk for 4 nights in May. Included were two dates back at the historic Cavern Club and a blazing slot at Zebra in Maidstone, Kent.

Professionally, Norman is a voting member of the recording academy. The past few years he has attended the GRAMMY Awards cheering on the artists he's voted for. In 2008, for the 51st GRAMMY Awards, Norman was an official entrant in eight categories on the nominating ballot.

In June 2009, Norman helped kick off Universal CityWalk's Celebrity Summer Concert series playing before an enthusiastic crowd of several hundred people. He also ended the year performing a benefit for WHY's Imagine There's No Hunger campaign on Citywalk.

Summer of 2010 was a busy time for Norman. He and his band performed several high profile shows, including a return to the IPO festival and a Celebrity Band Saturday Night on the newly expanded Universal CityWalk outdoor stage.
Norman has also become a guest vocal fixture at Adam Marsland's 70's Show at Cinema in Culver City singing the hits of Barry Gibb, Roxy Music, et al. In January 2011, Norman was a featured vocalist in Adam Marsland's live Elton John Tribute Show, singing leads on four of Sir Elton's biggest hits.

In May, 2011, Norman began recording his second solo LP "SO SOPHISTICATED" at Karma Frog studios in Reseda, CA with producer Adam Marsland once again at the helm. Norman worked with an assortment of acclaimed musicians, including drummers DJ Bonebrake (X) and Kevin Jarvis (Lucinda Williams, John Wesley Harding); vocalist Evie Sands; and saxophonist Larry O. Williams (GAP band) and trumpeter Rahmlee Davis of the Phenix Horns (Earth, Wind & Fire). The album features ten original songs that continue the Sunshine Funk musical journey of his first record.

Norman publishes his music through his own company, Mighty Ohio Music (BMI). His work can be been heard on TV shows including the Fancy Party episode from Season 3 of "Parks & Recreation," the Season 2 series premier of "Eli Stone," "Gossip Girl," and "Las Vegas."'

Norman ranks among his musical heroes and influences: Prince, Bee Gees, David Ruffin, The Beatles, Michael Jackson, ABC/Martin Fry, Sam & Dave, James Brown, Chic, Culture Club, Sly & The Family Stone, Duran Duran, Tom Waits, Sam Cooke, The Rolling Stones, Steely Dan and James Carter. Not that you will ever hear those artists in his work, necessarily.

His non-musical heroes are Jesus Christ, his grandparents Glad & Jerry Vail and his father Herb Kelsey. A self-confessed Mama's boy, he dearly loves his Mom.

Norman is married and resides in North Hollywood, USA.

Back to Home Page